You've got your sights set on a condo in sunny San Francisco, but before you can move in, you've got to sell your current home. With Fido on board, this takes a little extra preparation, such as making sure he is out of the house during home showings by spending the day together or hiring help in the form of a dog walker or doggy day care. The infographic below will help you get your home showing-ready, and you'll be California-bound before you know it.
Condo-living might mean a lack of green space, but San Francisco has plenty of dog-friendly fun waiting around every corner, making it one big backyard – just remember to clean up after your pooch to keep neighbors and locals happy. To start your move to San Francisco off right, treat your dog to some off-leash fun at Crissy Field Park and take in the mesmerizing views of the Golden Gate Bridge, or go for a hike in McLaren Park to discover an amazing view of the city. Afterwards, you can return to the city and explore the dog-friendly shops in Union Square and grab a bite to eat.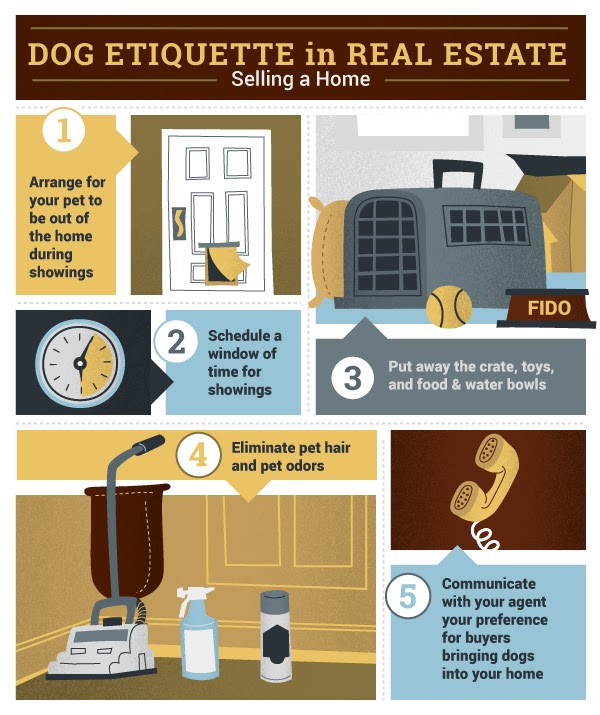 Infographic by DogEtiquette.info
For more information:
1.Visit wagwalking.com to find a place to board your dog.
2.Visit thebalancesmb.com for expectations on scheduling showings.
3.Visit bhg.com for other tips on decluttering.
4.Visit getridofthings.com for tips on eliminating pet odors.
5.Visit realtor.com to learn more about what you should discuss with your real estate agent.
Selling your home when you have a furry family member takes a little bit of planning, but the reward is worth it when you arrive at your new home. Just be patient – your home sweet home is closer than you think.