You bring your fur baby everywhere – running errands, exercising, even trips to visit grandma, so bringing him along to a showing of your potential new home in Phoenix seems natural. After all, this will be his new home, too, right?
While it's understandable that you'd want to bring such an important family member along, it's best to leave him at home for the initial showing or with a trusted pet sitter. If it's important that you bring him, check with the real estate agent first, as there may be other pets in the home or people with severe allergies.
If the lack of involvement your pooch has in the home-buying process gives you twinges of guilt, don't get too down on yourself, as Phoenix has plenty of things for the two of you to do together once you get settled in. After the energy zap that comes with moving, relax and unwind at a trendy wine bar, treat yourself to a tasty meal, or start your quest to find your go-to dog park. Click here to find more dog-friendly establishments in Phoenix.
Using this guide to home buying, you'll be ready to explore in no time.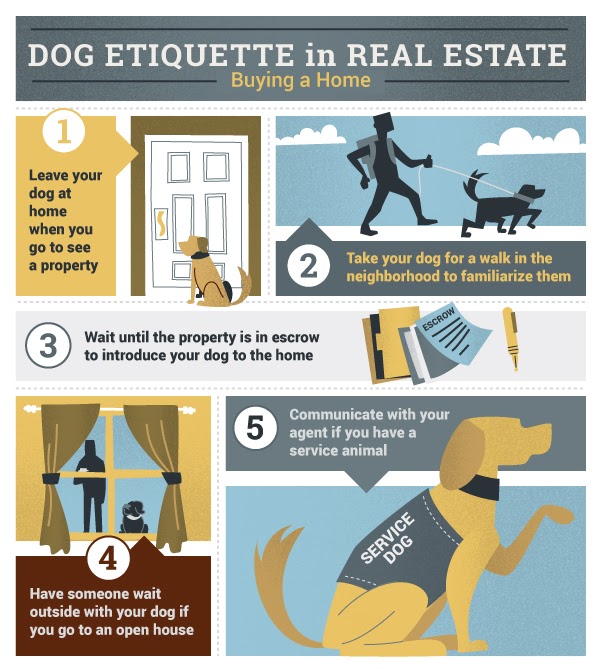 Infographic by DogEtiquette.info
For more information:
1. Visit wagwalking.com to find a drop-in pet sitter in your area.
2. Visit cesarsway.com for help with preparing your dog to socialize.
3. Visit realtor.com to learn more about escrow.
4. Visit hgtv.com for more information on open house etiquette.
5. Visit ada.gov for more service-animal-related guidelines.
Buying a home is a big life transition, so involve your dog as long as he and everyone else is comfortable and safe. Before you know it, you'll be settled in and tackling Phoenix one doggy adventure at a time.